How to get to us
How to reach the Faculty
The Faculty of Computer Science is located at Večna pot 113 in the south-west region of Ljubljana, next to the Faculty of Chemistry and Chemical Technology and Biotechnical faculty, near the Ljubljana ZOO. To reach the Faculty from the center take bus line 18 (direction "Center Stožice") and exit the bus at the station "Živalski vrt".
How to get to ViCoS
Visual Cognitive Systems Lab is located in the second floor of the building, right above the classrooms. In the elevator you exit at the second floor (2), turn left and walk to the second bridge. You will then see the logo of the laboratory on a pillar. The Slovenian abbreviation for the laboratory is LUVSS in case you have to ask somebody for directions.
How to get to Ljubljana
By car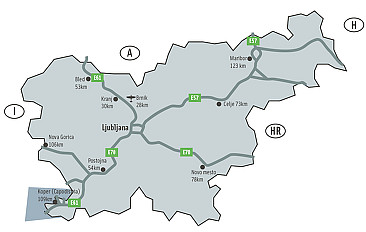 Ljubljana is connected to all neighboring countries with a good road system and visitors should not encounter problems on their trip.
By air
The Ljubljana airport at Brnik is about 20 km North-West from the center of Ljubljana. It has fairly good connections with other European airports (Frankfurt, Munich, London, Zurich, Copenhagen, Paris, etc.) and is by Adria, the national Slovenian air carrier, as well as number of other major European airlines. In addition, some other airports are relatively near (Trieste-Ronchi, Zagreb, Klagenfurt).
By air and train
Via Austria: By plane to Vienna, Graz or Klagenfurt airport and by train or car to Ljubljana (direct trains go twice daily on weekdays).
Via Germany: By plane to Munich and by train or car to Ljubljana (a direct train goes once every day).
Via Croatia: By plane to Zagreb and by train or car to Ljubljana
Via Italy: By plane to Venice or Trieste and by train or car to Ljubljana.
By Railroad
Ljubljana has good railway links with Austria (Vienna, Klagenfurt, Graz), Germany (Munich), Croatia (Zagreb, Rijeka), Hungary (Budapest) and Italy (Trieste). The above mentioned cities have good international connections with all of the large European cities. Traveling to Slovenia by rail from places further afield, is of course less comfortable and notnecessarily cheaper than air travel.